In the early summer of 2009, artists Bob Schmitt, Anita White and Shirley Neilson got together in the Longfellow community of Minneapolis, Minnesota, and said, "Let's put on an art crawl!"
Illustration by Anita White
Thus the League of Longfellow Artists (LoLa) was born. It was Shirley who thought of the name with its lilting acronym, and she and Anita set out to recruit artists and promote the event while Bob set up the infrastructure, designed the logo and brochure, and functioned as art crawl administrator. In subsequent years, several LoLa artists have served on a steering committee to help plan, promote and run each year's art crawl and to act as an advisory board to Bob, who continued to serve as art crawl administrator.
In that first summer, there were 42 participating artists at 20 sites. By 2013, it had grown to 155 artists at 89 sites.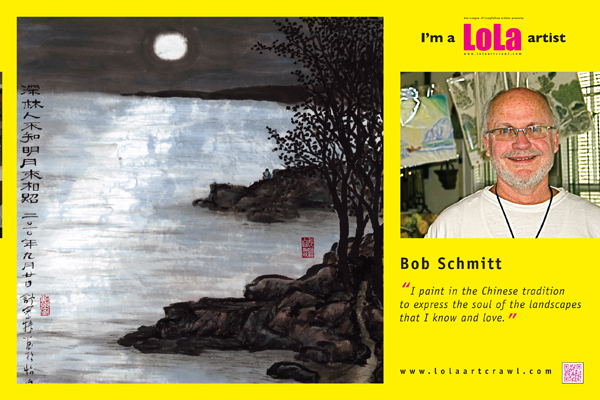 In 2011, LoLa partnered with the Longfellow Community Council and the City of Minneapolis Great Streets Project on Art in All Directions, which featured 56 "I'm a LoLa artist" posters displayed in the windows of shops along East Lake Street. The following year, 20 of those posters were adapted to cover 10 utility boxes along the street.
At the end of the 2013 crawl, Bob Schmitt stepped down as administrator, having fulfilled a commitment to serve in that role for five years. Anita White and Sharon Parker then acted as interim coordinators until early 2014, after which four members of the steering committee took on the task of planning and administering the 2014 crawl.
LoLa has continued to operate as an all-volunteer group committed to raising the visibility of artists who live and/or work in the greater Longfellow community, and to fostering community among these artists. There is no LoLa office or paid staff.
If you would like to be a sponsor of the 2014 art crawl, or wish to contact LoLa for any other reason, please send a message to longfellowartists-at-gmail.com or leave a voice mail message at 612-399-6546. A LoLa volunteer will get back to you as soon as they are able.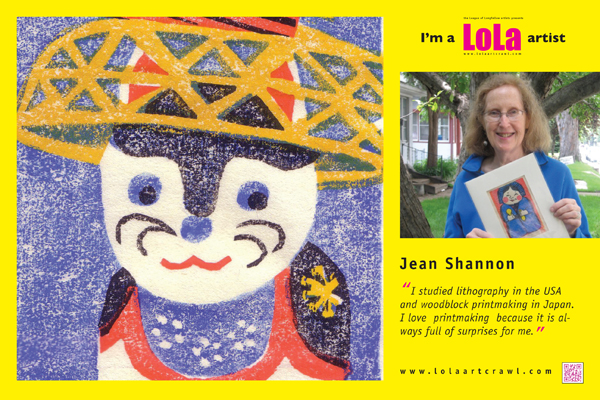 (To see more "I'm a LoLa artist" posters,
go here.
)